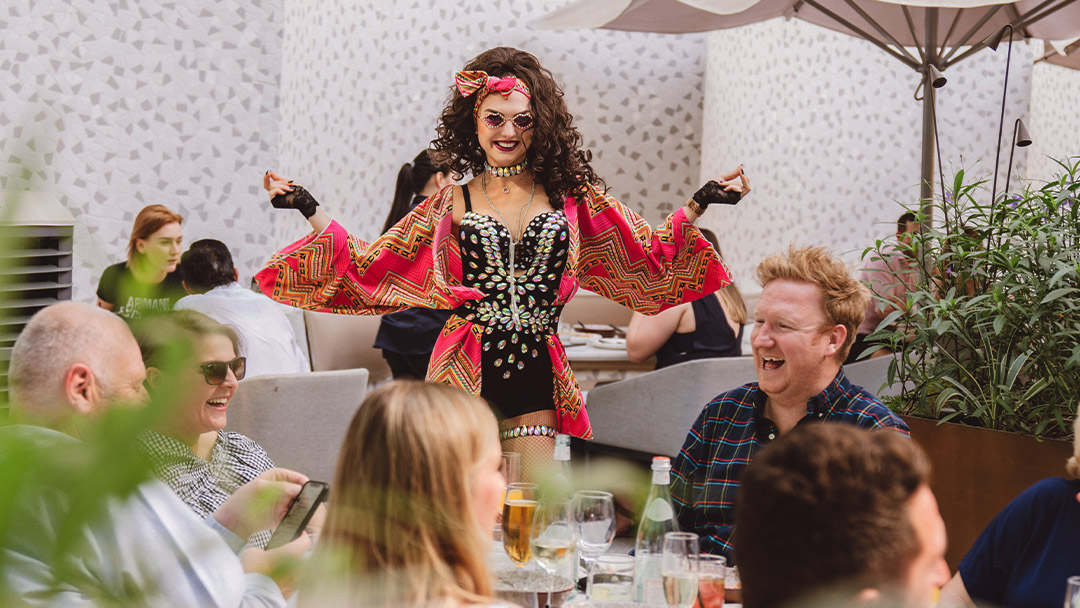 If I were to sum up the emotions of the F&B industry as a whole for 2022 in one line, it would definitely be 'An unprecedented state of euphoria, growth & new beginnings, equivalent only to the depth of adversity of the pandemic'.
A number of factors lead to this very encouraging & positive conclusion so early in the year. The UAE government's response & subsequent action plans of both containment through vaccination rollouts, Covid-19 safety rules, and commercially viable decisions balancing the importance of financial stability as much as health form the first part of this reality.
The overwhelmingly positive support & response from our extraordinarily willed citizens & residents with grit, entrepreneurial spirit & the strong will to prevail & sustain our lifestyles & visions was the balance of this formula.
Data captured from reliable sources pointing to commercial gains & growths posted by this sector, restaurants with waiting lists, rents going higher, new commercial developments announced, and mass return of human resources into the country from Europe, Africa & Asia after the mass exodus we faced in 2020 & most hearteningly talent of caliber, not just an investor profile but also Operator profiles that indicate our F&B industry is something everyone wants a piece of & rightly so!
Success in any business is the result of a vision backed by resources, both human & financial. I've personally learned that success is a synergy of pain & pleasure, well utilized for higher gain. The F&B industry is not unlike any other in its challenges, especially when we consider the truth that most who enter it, do so with bigger dreams than wallets, and more passion than expertise. And many times, the very same formula that propels new businesses & ideas to birth, becomes the very reason for the high rate of their failure.
Regardless of all that, it is also undeniably super glamorous with a sneaky numbers-crunching edge that may overwhelm many, but the resounding truth is that the profitability & sustainability of this industry far exceeds its risk factors.
Recent studies from reliable sources indicate some very interesting facts & data worth digesting before you step into your dream of being a successful restaurateur. This data has been gathered from intensive online research as well as our own learnings from more than 20 years of F&B experience in the UAE &, and from developing in excess of 350 F&B projects.
The UAE has among the highest volume of retail gross leasable area on a per capita basis globally.
Being a country deeply immersed in coffee culture, it is unsurprising that the country's cafes account for 27% of the total mix of restaurants & specialty coffee is on an unprecedented rise, welcoming the 4th wave in coffee culture.
In 2019 (just prior to the COVID-19 pandemic hitting the UAE) Dubai welcomed almost 17 million visitors naturally encouraging investors to take the dining & leisure sector seriously as a very viable area of investment with returns secured *even during recessions (*delivery & casual brands posted higher returns during low times, people eat simpler, but they don't stop eating).
The intensive marketing campaigns & travel benefits offered by Dubai in 2020, have reaped high dividends with an influx of visitors & have also strengthened investor interest in the region. Along with home-grown brands, Industry veterans & large Operators & F&B stalwarts have descended on our shores, seeking & securing prime locations to set up extravagant F&B venues, ready for the wave of new F&B diners invading the Dubai leisure scene.
Dinnertainment is the future of dining & it has been rapidly growing in Dubai post-pandemic. In fact, we see a more intentional & determined pursuit of entertainment while dining, perhaps as a human response to the year of adversity faced with closures & restrictions.
As per a revelation by the Dubai Chamber of Commerce and Industry, online sales in the UAE F&B market grew 255% in 2020 as compared to the previous year, to reach USD 412 million.
Food consumption in the UAE is forecasted to grow at an annualized rate of 3.2% from an estimated 8.9 million MT in 2020 to 10.5 million MT in 2025. Growth in the UAE will be largely driven by an expanding population base (3.1% CAGR between 2020 and 2025) and post-pandemic economic recovery.
Dubai, for example, has been a popular tourist destination globally, attracting 16.7 million tourists in 2019. While this number declined steeply to 5.5 million in 2020 owing to the pandemic, its ambitious strategy to attract 25 million visitors a year by 2025 will significantly boost the F&B sector.
Online sales within the UAE's food and beverage market surged 255% year-over-year in 2020 to reach $412 million, a new analysis by the Dubai Chamber of Commerce and Industry has revealed.
The analysis predicted the value of online food and beverage sales in the country to reach $619 million by 2025 and record a compound annual growth (CAGR) of 8.5% over the 2020-2025 period.
My mission in penning this article is to encourage anyone reading this to understand the F&B industry from not just its glamorous connotations but also its challenging dynamics of the perfect balance of creativity & consistency. The world has its eye on Dubai as a leading F&B destination, leading hospitality & service provider, and entertainment & lifestyle capital. It has taken a lot of determination, trial error & resilience to achieve this status.

The fact that so many home-grown brands are now being wooed to bring the Dubai brand of 'dinnertainment' to other major cities of the world, is an indication of a mature economy & resiliently pragmatic social fiber. The unique amalgamation of cultures, not just in terms of our diversity but the undeniable quality of our entrepreneurial spirit, enhanced by the passionate entrepreneurial spirit of the leadership, is in my opinion a 'manifestation' case study to explore.

I have called this ever-evolving nation home, for the past 26 years. I have 'grown' up here, built a family, businesses, and lifelong friendships & the one thing I testify to is that we are not perfect but what we definitely are, are intentional learners, ever resilient & passionate to achieve what may be the 'unattainable' for many. If Dubai has not been on your radar for potential investment before reading this, which I doubt, do visit us soon. It will be a trip to remember for its hospitality, service, modern amenities & irresistible simplicity in the aspects that really matter. Dubai is a city with a heart that beats louder & bigger than most. The sound you hear, the vibe you feel, the love you experience - that's its people, citizens & residents alike. Come to Dubai.

Data has been collated & curated by the author. Credits due to the following sources:
https://www.mediaoffice.ae/en/news/2021/Feb/22-02/...
http://www.alpen-capital.com/gcc-food-report-2021-...
https://argaamplus.s3.amazonaws.com/4b9ab348-c35d-...
https://www.mediaoffice.ae/en/news/2021/Feb/22-02/...